Regular price
Sale price
$9.99
Unit price
per
Sale
Sold out
Piña Colada is a popular flavor that typically combines the taste of coconut, pineapple, and rum. It's known for its tropical and refreshing profile, making it a favorite choice for many people, especially in warm and beachy settings. The flavor is often associated with relaxation and vacation vibes.

Ingredients
Coconut puree, pineapple puree, cider vinegar, natural pineapple flavor, natural coconut flavor, Agar-agar, salt, natural rum flavor, gluten free tamari, locust bean gum.
Contains: Soy

Usage
The Piña Colada Food Crayon is applied by sharpening shavings directly onto plates, desserts, or drinks when serving them. As the shavings come into contact with the food, they release the flavor, adding a fresh taste to the dishes.

Serving size
The suggested amount is 5 to 10 shavings per plate, depending on personal preference and the size of the dish. For smaller servings or drinks, 1 or 2 shavings should be enough.

Shelf Life and storage
The Piña Colada Food Crayon has a shelf life of up to 12 months. To maintain its freshness and quality, it's essential to store the crayon in its tube and keep it in the refrigerator once it's been opened.

Pairings
Grilled Pineapple Skewers: Enhance the tropical experience by grilling pineapple skewers and enjoying them with Piña Colada Food Crayon.

Coconut-Infused Desserts: Pair your Piña Colada Food Crayon with coconut-flavored desserts like coconut macaroons, coconut cream pie, or coconut sorbet. The combination of coconut flavors will create a harmonious tropical treat.

Spicy Grilled Shrimp: For a contrast in flavors, consider pairing your Piña Colada Food Crayon with spicy grilled shrimp. The sweetness of the Piña Colada crayon can balance the heat from the shrimp, creating a delightful contrast.

Tropical Fruit Salad: Create a fresh and vibrant fruit salad with a variety of tropical fruits like mango, kiwi, and papaya. The Piña Colada's pineapple and coconut flavors will blend well with the other fruits.

Coconut-Crusted Chicken: Try coconut-crusted chicken tenders or nuggets as a savory pairing.

Pineapple-Glazed Ham: If you're looking for a main dish pairing, consider serving a pineapple-glazed ham with Food Crayon as topping. The combination of sweet pineapple and ham's savory notes can be a delightful match.

Coconut Rice: Prepare a batch of coconut-infused rice to enjoy with your Piña Colada Food Crayon. The creamy and slightly nutty flavor of coconut rice can complement the cocktail's tropical notes.

Coconut-Crusted Fish Tacos: Combine the flavors of Piña Colada with fish tacos featuring a coconut crust. The tropical essence of the Piña Colada Food Crayon can enhance the flavors of the fish and toppings.

Tropical Smoothie Bowl: Blend pineapple, coconut milk, and other tropical fruits to create a smoothie bowl. Top it with granola, sliced fruits and the Piña Colada Food Crayon.

* Food Crayon as a refill doesn't come with sharpener. Sharpeners are included in boxes (of 1, 3 or 6).
Share
Natural ingredients, we promise !

We use only natural ingredients: Natural juices, spices, infusions, fruit purees, essential oils and natural flavors.

We use vinegar of apple ciderandsaltto preserve our spice pencils.
No other preservatives, pinky promise!
Agar : a natural texture

This texture is do to agar-agar, a natural and vegetable gelling agent extracted from seaweed.
Gluten-Free

The ingredients used to make the Crayons are gluten-free!
Vegan

All Food Crayons are vegan.
*Only Honey and Mustard flavor is non-vegan, because it made of honey.
View full details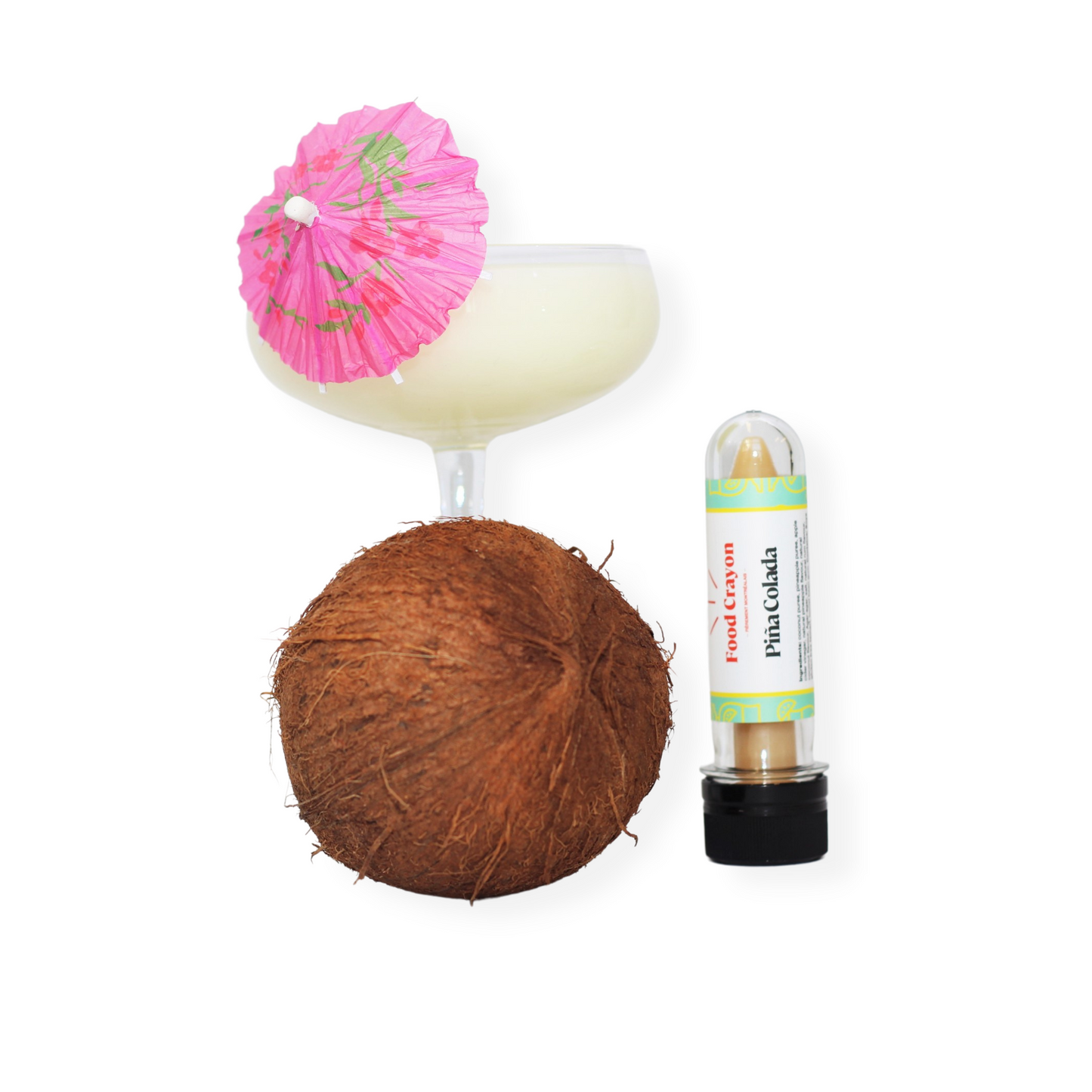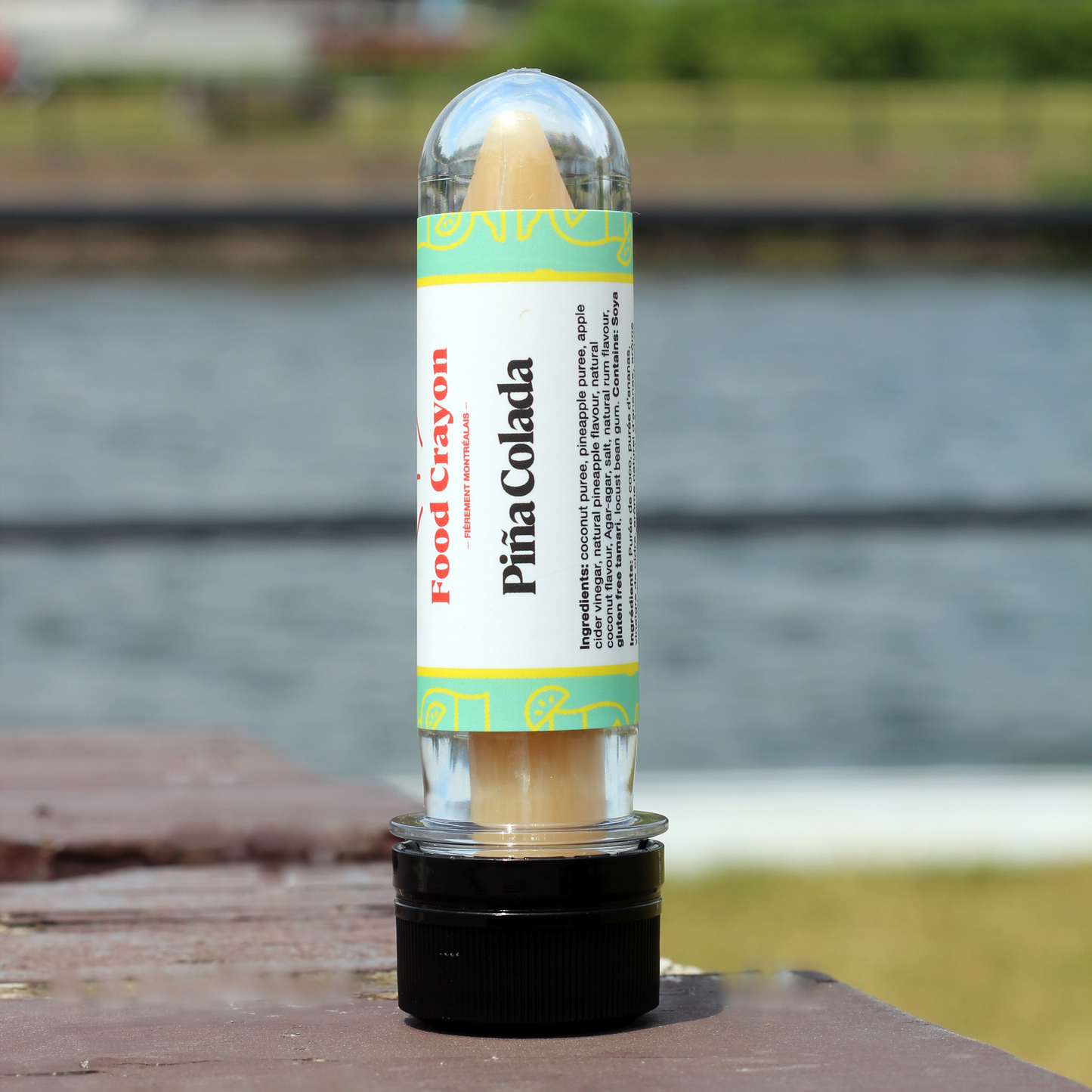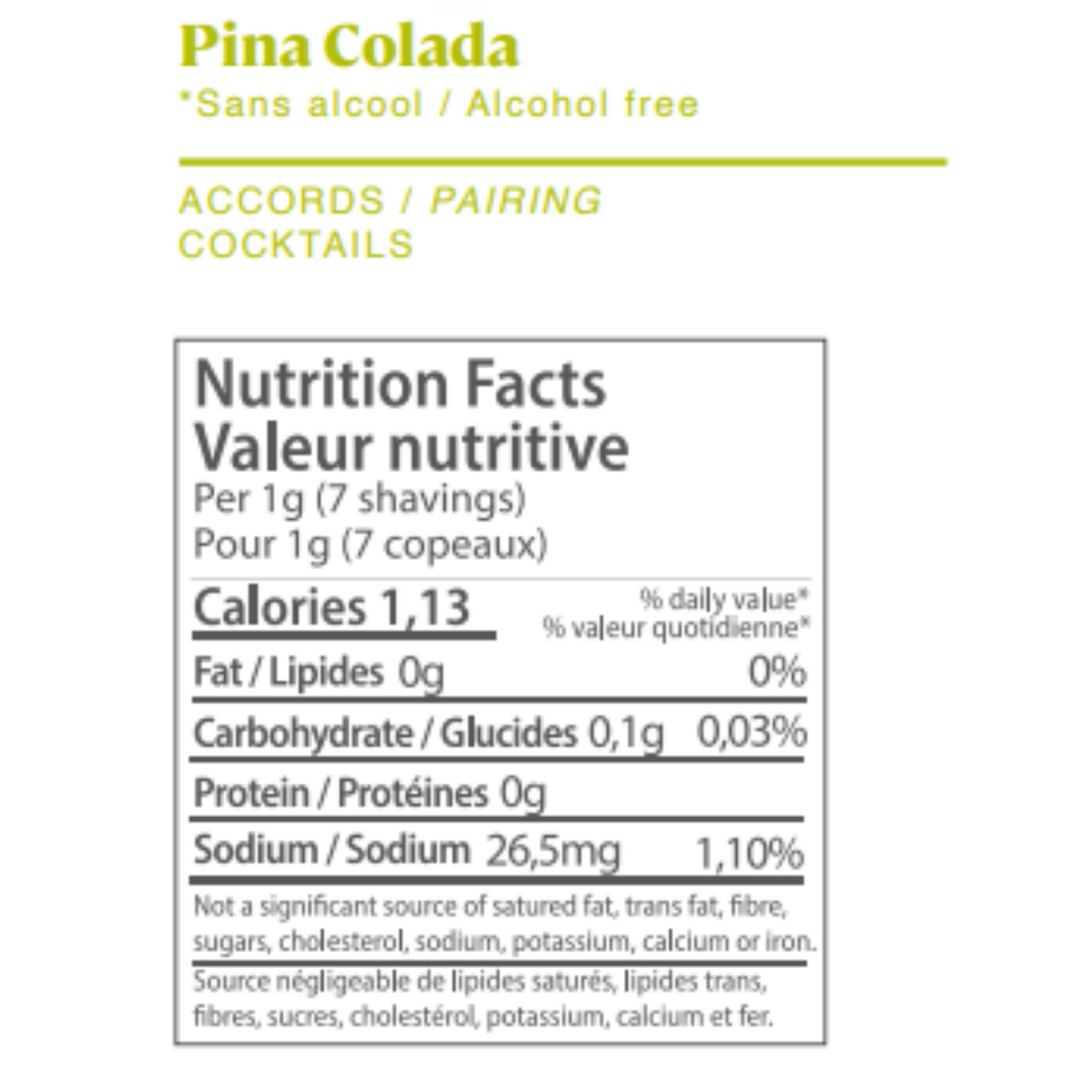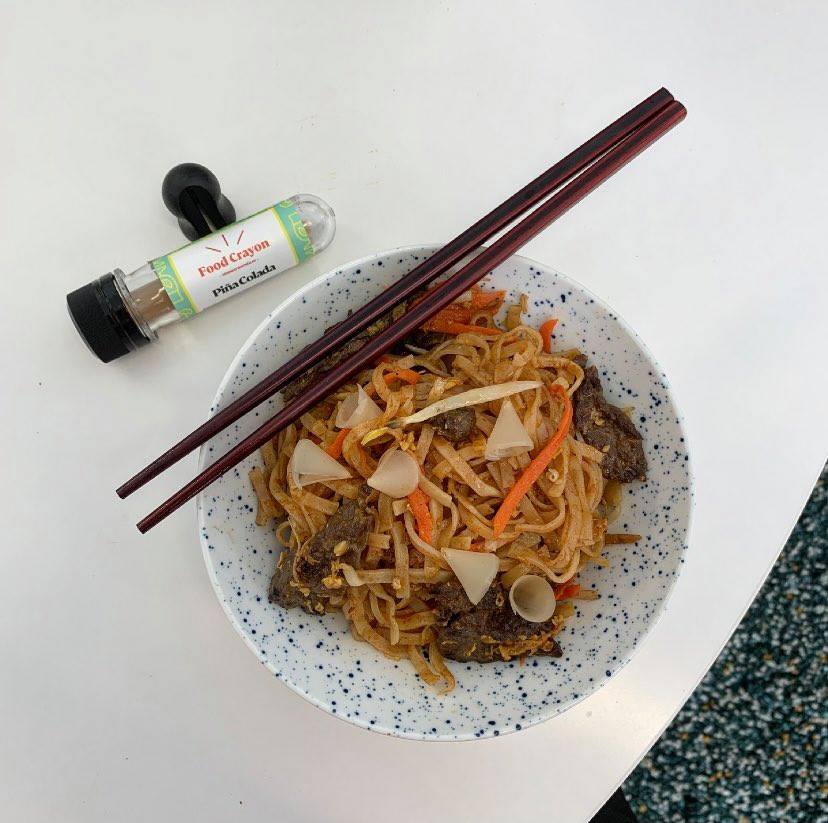 Fast Shipping

We ship your orders within 24 hours from our workshop in Montreal.

Secure transactions

All transactions are encrypted and secured by the Shopify platform.

Positive vibes only !

Hundreds of positive reviews on Shopify, Etsy, Facebook and Google.
Try it!